A unique opportunity for water professionals and urban planners to learn and collaborate on sustainable solutions for their cities
The conference Embrace the Water aims at gathering urban planners and water professionals from around the globe in order to share experiences and projects on the opportunities and threats of water in modern, sustainable and innovative cities. The conference contributes to celebrating the Gothenburg 400 year's jubilee, and to the IWA Cities of the Future programme.
Message from the conference chair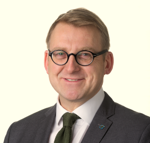 "A sustainable management of water supply and sanitation is the key to sustainability in newly urbanized areas. In transitioning cities, the planning for development of water infrastructure is too often overlooked. The impact of the theme of the conference, to deepen the interaction between planners and water professionals, can hardly be overestimated. I welcome you to participate and contribute to this most important area amid spatial and water planning, to contribute to its development for a sustainable future for all. Make your contribution in June 2017!"
- Henrik Kant, conference chair, managing director department of Sustainable Waste and Water, City of Gothenburg

Water professionals and urban planners need more than ever to share their knowledge to create sustainable water in cities, fostering synergies between water, energy, waste, food, and achieving livability outcomes for the city. The Embrace the Water conference will facilitate dialogue across disciplines and institutions, focusing on innovations that work. For more information see the programme programme or download the pdf.
Several interviews and presentations where filmed and broadcast from the conference. You can find them all here.
Jan Eliasson
Former deputy secretary-general of the United Nations


Kelly Shannon
Director of the Graduate Program of Landscape Architecture and Urbanism program at the University of Southern California
William Veerbeek
Unesco-IHE
Flood Resilience chair group
Water Science & Engineering
Tony Wong
CEO of the Cooperative Research Centre for Water Sensitive Cities

Steve Moddemeyer
Principal for Planning, Resilience and Sustainability at CollinsWoerman
Carol Howe
CEO of ForEvaSolutions



Mark Fletcher
FICE, FCIWEM, FGS
Director and Global Water Business Leader, Arup
Stay posted on what's happening,
register online for updates on the conference programme: